Nowak has been applying its industrial casting expertise to medical devices since 2003.
As subcontractor, we manufacture a range of orthopedic stainless steel or Cobalt-Chromium implants and ancillary blanks, mainly for knee and hip replacements.
Since 2012, Nowak has invested heavily each year to increase our company's contribution to the orthopedic industry.
Today, Nowak produces over 100,000 castings of implants and ancillary kits every year.
Our medical device unit
Nowak has developed a separate, specially dedicated medical device production unit, producing Cobalt-Chromium orthopedic implants in particular.
Our certified operators and our leading-edge production line technology are helping us fulfill our ambition of becoming a major investment casting player in the medical device sector.
We follow strict quality assurance procedures and devote significant resources to quality control throughout the production process to better meet your requirements.
Our medical production unit highlights Nowak's commitment to quality, efficiency and customer service.
Nowak's investment cast medical devices
Knee implants
Today, 95% of the world's knee implants are made of Cobalt-Chromium, due to the material's high wear-resistance.
Knee implants consist of two metal parts: the femoral component (top section of the implant) and the tibial tray (the bottom section).
The femoral component, by its design and the materials used, is ideally suited for investment casting. Investment casting allows easier integration of many details in the inner recess of the parts, such as logos or size markings.
We have the expertise to support all your development projects, whether for primary knee replacements or revision surgery, fixed or mobile-bearing tibial trays, unicondylar or patellofemoral joint replacements.
Dual-mobility cups
Investment casting has also proved to be a valuable solution for the production of dual-mobility cups.
Firstly, it enables the parts to be made from Cobalt-Chromium alloy or stainless steel alloy (according to ISO 5832-9) for enhanced frictional performance.
Secondly, the circumferential macrostructures of the cup can be cast without need for further finishing operations, thus producing significant cost reductions.
Other implants
Other types of implants that need to be made from Cobalt-Chromium alloys can also be manufactured using investment casting.
We produce ankle and shoulder replacements as well as ligament staples.
Ancillary kits
As well as developing your range of knee implants, we can produce your full range of femoral trial components.
Our solutions will be tailored to your material or design requirements and can offer simplified manufacturing sequences.
Instrumentation
Investment casting can also be a cost-effective alternative for your Class 2 medical devices.  Our process simplifies finishing operations for parts such as rasp-holders, cup impactors, handles, etc.
The alloys we use comply with the NF S94-090 standard for "Medical and surgical equipment – Instrumentation materials – Martensitic precipitation-hardenable, austenitic and austenitic-ferritic stainless steels" (17.4PH 316L…)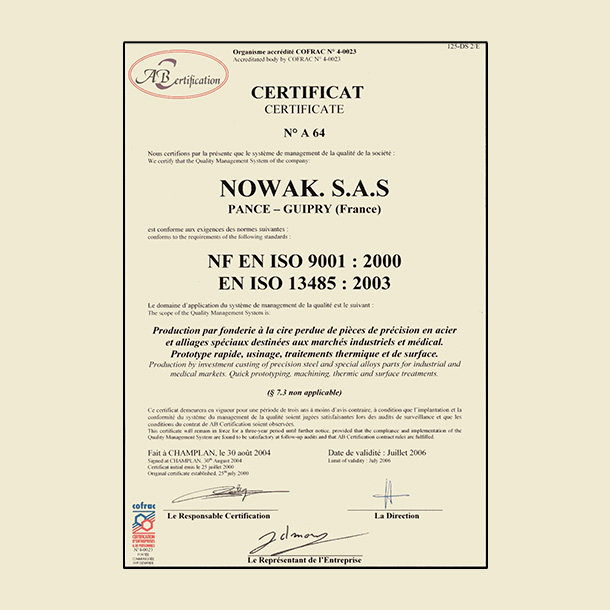 ISO 13485 certification
Since Nowak's strategic decision, in 2004, to diversify into the medical sector, the company has been certified to the NF EN ISO 13485 standard for the following activities: "Investment casting of precision-made steel and special alloy parts for the medical devices industry. Rapid prototyping, machining, thermal and surface treatments."
This standard specifies the quality management system requirements for the medical devices industry.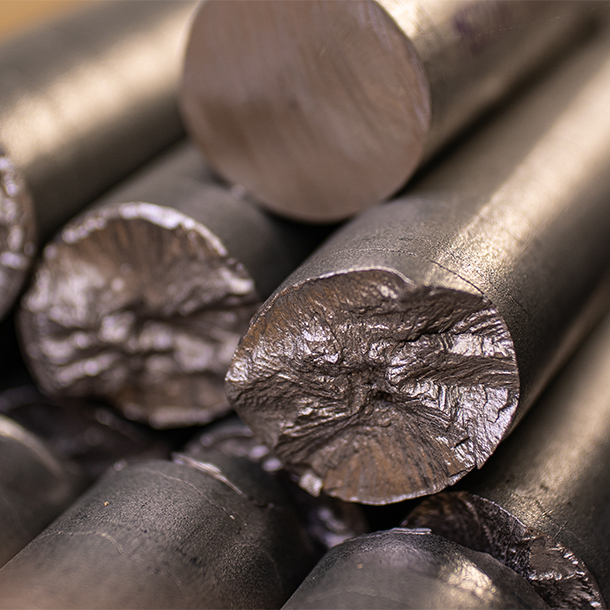 Cobalt-Chromium alloys according to ISO 5832-4
Investment casting is the manufacturing process used to manufacture Cobalt-Chromium alloy medical implants.
This alloy demonstrates exceptional frictional and mechanical properties that stainless steel in unable to replicate to date. Cobalt provides resistance, rigidity and hardness, while chromium's high passivity guarantees corrosion resistance.
Cobalt-Chromium alloys are the natural choice for any orthopedic implant subject to frictional stress, as they reduce the risk of wear debris release.  Their low carbon content and stable microstructure carbide distribution make them ideal for high-grade polishing.